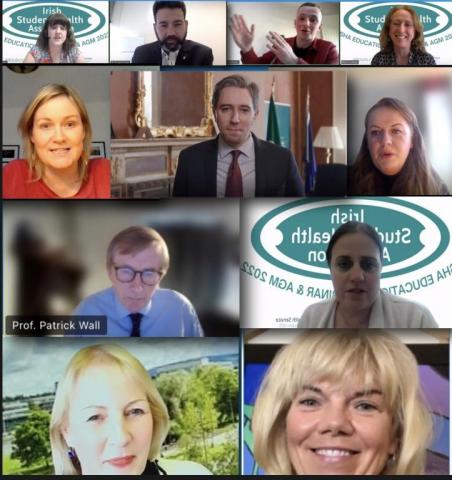 Despite Storm Eunice, the ISHA annual conference 2022 (online event) hosted by UCD Student Health Services and sponsored by Consilienthealth.ie was a great success, and well attended by colleagues working in Student Health Services across the country, and in the UK. We were delighted to have Minister Simon Harris address our members by video link, and acknowledge the huge commitment and very important work being carried out by staff in 3rd level student health centres nationally, and the excellent services being provided for students. 
We had a great line up and schedule for our webinar with presentations and expert opinions from some of our leading voices in Student Health Care and in clinical care management within the context of Covid-19. This year we were also glad to bring a student perspective to the event. We hope that all our members found the webinar interesting and supportive to their roles in providing excellent care to our student populations.
ISHA would like to thank Consilient Health, Consilienthealth.ie for their continuous support, and for sponsoring our Conference/webinar today. 
We would like to express our sincere thanks to outgoing ISHA president Moira O Loughlin from UCD, for all her hard work, dedication and commitment and for leading the organisation through what has been a very challenging year for us all in Student Health. Congratulations and a very warm welcome to incoming ISHA President, Dr. Serena O Connell at NUIG Health Centre. ISHA members are looking forward to working with Serena and the committee in the year ahead, and continuing our great work in 3rd level student health services across the country.
Thank you to the ISHA Committee for working on our behalf, and the staff at UCD Student Health Services, who hosted the conference/webinar today. We really appreciate all your hard work, time and effort. Next year, we hope that our ISHA Conference will once again be held as a live event, and we look forward to joining our colleagues at NUIG Student Health Centre, who will be hosting the 2023 conference/ event. 
Special thanks to all the guest speakers who presented at the ISHA conference today. You can read more about our guest speakers; Dr. Michele Hill, Ruairí Power, Dr. Deirdre Lundy, Professor Patrick Wall and Hazel Travers, their roles and ISHA Conference presentation titles here: 
ISHA Conference Speakers 2022
Minister Simon Harris
Minister for Further and Higher Education, Research, Innovation and Science
Presentation: Video address to ISHA members
Minister Harris addressed the delegates and thanked them for their dedication to delivering front line care to student in 3rd level.  He outlined his thoughts on Mental Health and Wellbeing interventions and initiatives introduced since the formation of the Department of Further & Higher Education in 2020 which included a range of multidisciplinary and nontraditional mental health offerings.
The minister referenced the framework document for Mental Health and Suicide Prevention launched in 2020.
He outlined funding given by the HEA to support mental health in the 3rd level sector
Minister Harris spoke about the Healthy Campus initiative for student and staff which was supported by seed funding, and he said the HEA was currently involved in recruiting a Healthy Campus National Coordinator and the establishment of an advisory group to support this National coordinator.
The Minister said it was his job to listen to those on the front line and to make sure that investment goes to the areas where students and health care professionals feel it is important and where it is required in improving ratios across the colleges.  He welcomed an informed discussion on how investment leads to improved outcomes.
Dr. Michele Hill
Consultant Psychiatrist in the Student Health Department in UCC
Presentation: 'Student Mental Health- Time to rethink the Model of Care'.
Dr. Michele Hill is the Consultant Psychiatrist in the Student Health Department in UCC since March 2017. She has extensive sub-specialty training in Research, Early Intervention, and Psychodynamic and Group Psychoanalytic Psychotherapy. She has an MD in Psychosis and was the Associate Director of Schizophrenia Research in Massachusetts General Hospital and Harvard Medical School during her time in the USA. She is a firm believer in the importance of early intervention and stage appropriate holistic care for young people with mental health issues, and recently led out on the development of the UCC Student Mental Health Strategy: which envisions a needs-led support system with students at the centre, diversification of therapeutic offerings and greater accountability and clinical governance across services. She is the Chair of the Youth and Student Psychiatry committee within the College of Psychiatry of Ireland, which achieved Faculty status in 2021.
Dr. Michele Hill presented to the membership of ISHA on Student Mental Health – time to rethink the model of care.
Highlights of the presentation summarized in Dr. Michele take home points;
Accurately map and differentiate needs
Tiered offerings
System and Wellness and effective treatments
Multi-disciplinary workforce
Support structures for full range of issues
Dr Michele Hill described EI/YMH service approach. She examined what the best model of care may be, whilst looking at possible definitions of what student mental health care is in 3rd level institutions. She pointed to the need for more data to see what works. Dr Hill indicated that currently PCHEI are undertaking research to understand what student needs are in relation to mental health in 3rd level in Ireland. Dr Hill said while this would be very welcome data, it may omit students attending student health centers and other mental health support services and may bias funding allocations.
Dr. Hill presented a model of care from Lancet 2019, which was borne from a collaboration between Caranda and the UK. She said that the model could tie in or map to the Health Campus initiative and the National Mental Health and Suicide Prevention framework document. 
She noted that although Minister Harris in his Connecting for Life document supported a holistic, multidisciplinary approach, the prescription for allocation of additional funding to mental health supports was directed to additional counsellors and psychologists. 
Dr Hill mentioned that mental health referrals had doubled in UCC since the pandemic. She gave a brief overview of the UCC needs led system and the implementation of this new Mental Health strategy which is UMT endorsed, and supported by 3 consecutive SU's. This was launched around the time of the ministerial funding, enabled the employment of mental health nurse, and now they have a small primary multidisciplinary care team.
A lively Q&A followed moderated by Dr. Fiona Thompson.
Ruairí Power
President of UCD Students' Union
Presentation: 'Supporting Student Mental Health- A Student Perspective'
Ruairí is the President of UCD Students' Union for 2021/22. He is an undergraduate psychology student from Co. Clare. Prior to being elected President, he spent a year as the elected Welfare Officer for UCDSU for 2020/21. This year's Students' Union team are heavily focused on investment in student supports, addressing the cost of living in an increasingly commercialised higher education sector. Ruairí advocates for sustainable planning in recruitment and retention of staff involved in all elements of student mental health supports in the HEI sector. Students' Union representatives have several functions including lobbying on an internal level on boards/committees and engagements with public representatives.
Ruairi addressed the ISHA webinar, highlighting some key issues for students in terms of mental health.  He outlined the role of the SU as advocates of student opinion, and how the student's union fits in the structure of UCD.
Ruairi covered issues for student mental health like fees, and the expense of accommodation which causes stress to students. 
He also referenced the weak ratios in number of counsellors to students, and mentioned the use of external counselling support in UCD.
He referenced meaningful partnerships working on consent, dignity and respect and bystander intervention. He applauded Bressie who he said has succeeded in creating a hostile environment to dismissing mental health concerns.  He referenced the lack of core funding to universities which has put pressure on the universities commercial viability and negatively impacted the level of priority in funding and developing support services.
Ruairi mentioned that the new HEA bill indicated that funding frameworks may prove controversial. He said the funding structure needs to support a multidisciplinary funding approach v's the ringfencing of funds to any specific area of mental health support, and the funding needs to support mental health recruitment and retention of in college services as opposed to outsourced services
He said there is a need for an increase in support funding for mental health as well as core funding. The SU support an increase in budgetary allocation internally in UCD and at a state level
Dr, Deirdre Lundy
Lead Medical Officer National Maternity Hospital
Presentation: 'Contraception and Conducting On-line Consultations during Covid-19'
Dr. Deirdre Lundy has been working within general practice but specialising in 'Women's Health' for over 30 years. She is originally from the USA but attended UCD medical school and never went back. She has worked for all the various family planning clinics around Dublin and was a member of Bray Women's Health Centre for more than 20 years. Currently she is lead medical officer for the new NMH Holles St "Complex Menopause Service" which accepts referrals from general practice for menopausal patients with comorbidities. She helped start and currently works in the IUCD clinics in the Rotunda, Coombe and National Maternity Hospitals. Outside of clinical work Deirdre also does training for the Irish College of General Practitioners in the Women's Health department, offers online webinars in sexual and reproductive health for GPBuddy & Pharmabuddy and is a member of the "Ask the "Experts" panel for GPBuddy.
Dr. Lundy presented on Conducting Contraceptive consultations online and her presentation focused on contraceptive choices and updates in contraception.
Dr Lundy mentioned that she is working with GP Buddy as resident expert, and she encouraged clinicians to become members.
She was received well by the delegates and her presentation was followed by a lively question and answers session.
Professor Patrick Wall
Professor of Public Health at UCD
Presentation: 'Management of Covid in a University Setting'.
Professor Patrick Wall delivered an interesting, engaging, and entertaining presentation on lessons learned about the management of Covid 19 in UCD followed by Q&A. Prof. Wall outlined some key experience of UCD covering;
How the student experience had changed. How students had no real in campus experience during Covid-19, and how in general student were extremely compliant with safety measures
Prof. Wall outlined the 3 stage UCD model which had a

Teaching and Learning committee
Covid Medical committee
Staff and Trade Union committee
He also applauded the role of UCD Estates who were very involved in development of safe infrastructures. Professor Wall said that UCD set up one Residence to be an isolation unit. UCD also set up internal Covid Contact tracing teams, ahead of the HSE which worked very well. He attributed a lot to the success to excellent communications Prof. Wall covered, contact tracing in UCD when there was an outbreak, ventilation and experience with PCR testing. Prof Wall mentioned the experiences we have missed out on, what we have lost in terms of social aspect or friends, family lost to Covid 19, experiences lost, and questioned what the impact will be down the line.
Hazel Travers
Consilient Health
Presentation: 'Results from large real-world PRO-E2 safety study in combined oral contraception'.
After completing a BA degree in French and German in UCD and a post graduate diploma in Marketing, Hazel spent 13 years in MSD in various roles in the women's health division. She joined Consilient Health 7 years ago, and is currently the National Lead for Contraceptive Care.
Hazel Travers from Consilient Health presented on Results from large real-world PRO-E2 safety study in combined oral contraception.