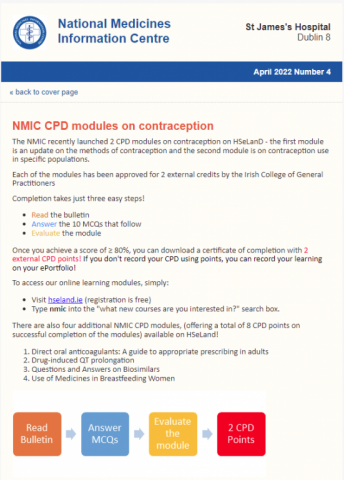 The NMIC recently launched 2 CPD modules on contraception on HSeLanD - the first module is an update on the methods of contraception and the second module is on contraception use in specific populations. Each of the modules has been approved for 2 external credits by the Irish College of General Practitioners.
Completion takes just three easy steps: 1) Read the bulletin. 2) Answer the 10 MCQs that follow. 3) Evaluate the module. Once you achieve a score of ≥ 80%, you can download a certificate of completion with 2 external CPD points. 
If you don't record your CPD using points, you can record your learning on your ePortfolio.
To access the online learning modules, simply:
Visit hseland.ie (registration is free)
Type nmic into the "what new courses are you interested in?" search box.
There are also four additional NMIC CPD modules, (offering a total of 8 CPD points on successful completion of the modules) available on HSeLand.
Direct oral anticoagulants: A guide to appropriate prescribing in adults
Drug-induced QT prolongation
Questions and Answers on Biosimilars
Use of Medicines in Breastfeeding Women