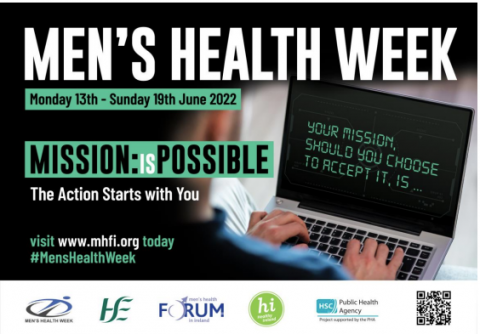 Men's Health Week 2022, runs from Monday 13th-Sunday 19th June 2022. The core aims of MHW each year are to:
Heighten awareness of preventable health problems for males of all ages.
Support men and boys to engage in healthier lifestyle choices / activities.
Encourage the early detection and treatment of health difficulties in males.
Each year, individual countries focus upon a specific theme for Men's Health Week. The theme for 2022 on the island of Ireland is: 'MISSION: isPOSSIBLE', and the call to men and those who support the health of men is: 'the action starts with you'.
Men's Health Week 2022 takes place in the context of an easing of the restrictions introduced to combat the COVID-19 pandemic. Worldwide, this virus had a major and disproportionate impact upon men's health as well as their wider lives.  MHW 2022 seeks to reverse this trend, and focuses upon what men can do to take back control of their own health.
The purpose of MHW is to draw attention to the health and wellbeing issues affecting men and boys, and to encourage / promote personal, structural and systemic change where possible. This implies that any messages and engagement needs to target:
Males themselves
Policy / decision-makers
Service providers
Public awareness and preconceptions
MHW gives everyone an opportunity to encourage men and boys to take better care of their health and to seek help or treatment at an early stage. Absolutely everyone can do something to support and celebrate MHW 2022. A range of practical ideas for how you or your organisation can be involved in MHW 2022 can be found online at: http://www.mhfi.org/mhw2022celebrateit.pdf You could also consider helping to distribute the free, 32 page 'Challenges and Choices' Man Manual https://www.mhfi.org/mhw/mhw-2022.html#Challenges
Read more at: https://cif.ie/wp-content/uploads/2022/06/Mens-Health-Week-2022-Toolbox.pdf
Visit
Website: https://www.mhfi.org/mhw/mhw-2022.html
Facebook: https://www.facebook.com/MensHealthWeek
Twitter: https://twitter.com/MensHealthIRL