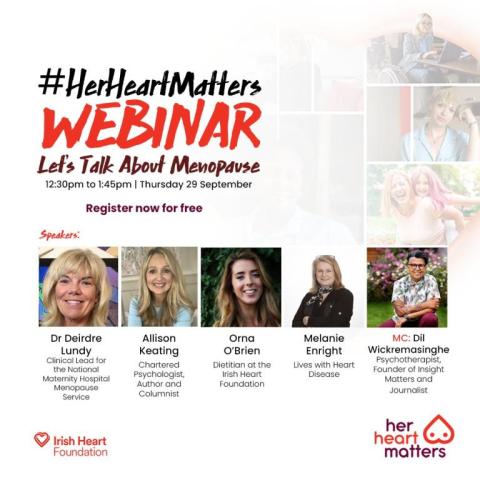 This World Heart Day, 29 September, join the Irish Heart Foundation and panel of experts for a free webinar.
Her Heart Matters Webinar. 'Lets talk about Menopause'. Thursday 29th September 2022. 12.30-1.45 pm
Register at: https://www.eventbrite.ie/e/her-heart-matters-lets-talk-about-menopause-tickets-413653517807
About this webinar
Her Heart Matters: Let's Talk About Menopause will bring together a panel of experts for a conversation on women's real experiences of menopause, its impact on heart health and lots of practical information to help women.
Just how much does menopause increase my risk of heart disease and stroke? What should I say to my healthcare provider? With such a busy life, how do I look after my heart? Find out all this and more.
Chaired by Psychotherapist, Founder of Insight Matters and Journalist Dil Wickremasinghe.
Speakers include:
• Dr Deirdre Lundy, GP Lead for the Complex Menopause Clinic at the National Maternity Hospital
• Allison Keating, Chartered Psychologist and Author
• Orna O'Brien, Registered Dietitian with the Irish Heart Foundation
• Melanie Enright, Heart Attack Survivor
Irish Sign Language interpretation will be available at the event.