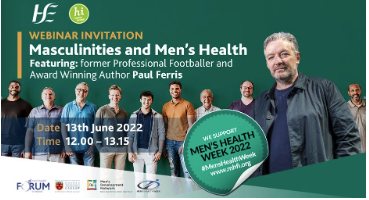 HSE 'Masculinities and Men's Health' Webinar focused on Men's Health Week. 13th June 2022 from 12.00 – 13.15. 
Men's Health Week Webinar with special guests:
Former pro footballer Paul Ferris. After he finished his playing career, Paul worked in the football industry in sport science for many years and is also an award winning author; he has written two books (The Boy on the Shed and The Magic in the Tin) both about the personal challenges he has experienced in his life (including prostate cancer) and how he has worked to overcome them.
Sonia Montgomery is the Suicide Prevention Lead within the Western Health and Social Care Trust and has been a key supporter of Men's Health Week for some time.
Jim Curran is the Director of Strategy and Operations for the Irish Pharmacy Union and has led in this area on Men's Health Week and worked closely in partnership with the Men's Health Forum in Ireland.
Register at: https://bit.ly/3MJdQmy