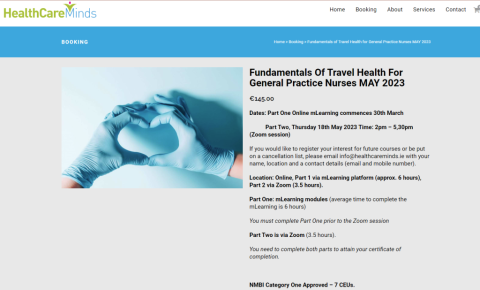 The next Fundamentals of Travel Health for GPNs blended learning course will take place via mLearning and Zoom.
Course Dates:
Part One: mLearning, Commences Thursday 30th March 2023 for 6 weeks 
Part Two: Zoom meeting (3.5 hours), Thursday 18th May 2023 2pm-5.30pm
Part One: 6 mobile mLearning modules over 6 weeks, average time to complete is 4-6 hours, (<1 hour per week).
All 6 modules of Part One must be completed prior to attending the Zoom session, and both parts must be completed to attain your certificate.
NMBI Category One Approved 7 CEU.
Further information and booking is available at: https://healthcareminds.com/product/travel-health-course/