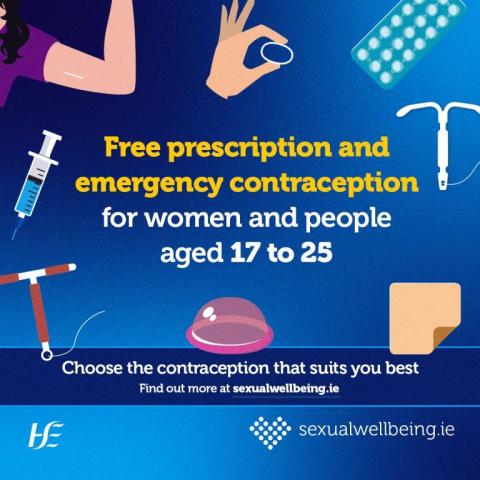 Women and people with a uterus aged 17 to 25 can now get free contraception in Ireland.
Full details are available at sexualwellbeing.ie: https://bit.ly/3DoANK4
What costs are covered
The costs covered include:
GP or doctor's appointments - to talk about contraception options and for repeat prescriptions when needed
any prescriptions given by your doctor - these will be given free of charge at participating pharmacies
your choice of contraception - from the types covered below
fittings and removals of implants and IUDs or IUSs (coils) 
any check-ups or other follow up care needed, relating to your implant or coil
emergency contraception (morning after pill)
Types of contraception covered
There are many types of contraception covered by this service. You may need to experiment to find what works best for you. Emergency contraception is also covered.
You can choose from a range of contraception listed below. 
These include short-acting contraceptives and long-acting reversible contraceptives (LARCs). 
Short-acting contraceptives
Short-acting contraceptives are are types of contraception that depend on you remembering to take or use them regularly or each time you have sex.
These include the:
LARCs
Long-acting reversible contraceptives (LARCs) are types of contraception that you do not have to remember to take everyday.
These include the:
How to get free contraception
To access free contraception you need to be:
a woman or person with a uterus  
aged between 17 to 25
living in Ireland
You do not need a medical card to access this service.
Make an appointment with your GP to discuss your options for contraception. You do not have to pay for your GP visit or any prescriptions you get.
Talking to your GP about contraception
Your information
You will need to give your PPS number, name, date of birth and address at the GP. We need this to make sure that you are in the 17 to 25 age group covered by the free contraception service. 
GPs pass this information to pharmacists if you get a prescription. This lets them know not to charge you. 
If you do not have a GP or do not want to go to a GP
We are working to open this up to other providers. For example, women's health, family planning and student health services. We will update this page with other options when they are available.
Emergency contraception from pharmacies
Emergency contraception can prevent pregnancy after unprotected sex or if your contraception fails. For example, a condom slipped or you missed a pill.
If you need the emergency contraceptive pill (the morning after pill), this can be given over-the-counter at participating pharmacies for free.
You will need to give your PPS number, name and address at the pharmacy. We need this information to make sure that you are in the 17 to 25 age group covered by the free contraception service.
More information on emergency contraception
Where to get condoms
Condoms are not included in this particular service but using condoms correctly and every time you have sex will reduce your risk of getting an STI.
The HSE provides condoms to a range of services for free distribution.
These include many:
You can also buy condoms from shops and pharmacies. Always use condoms that carry the European CE mark or Kite mark on the packet. This means they've been tested to the required safety standards.
Contraception resources
Download a contraception guide in plain English (PDF, 474 KB, 34 pages)