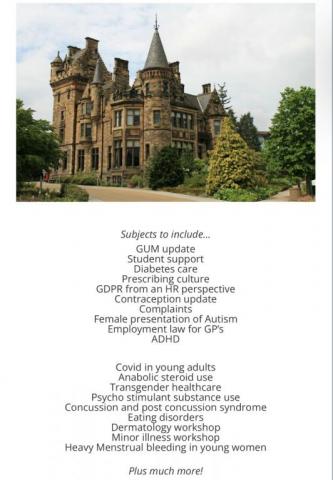 The 73rd UK SHA  annual conference will take place at Pollock Halls, University of Edinburgh from Sunday 19th - Tuesday 21st June 2022.
Bookings: https://studenthealthassociationmembers.co.uk/
Subjects to include:
GUM update
Student support
Diabetes care
Prescribing culture
GDPR from an HR perspective
Contraception update
Complaints
Female presentation of Autism
Employment law for GP's
ADHD
Covid in young adults
Anabolic steroid use
Transgender healthcare
Psycho stimulant substance use
Concussion and post concussion syndrome
Eating disorders
Dermatology workshop
Minor illness workshop
Heavy Menstrual  bleeding in young women
Plus much more!
The Nick Malleson lecture will be held at 7pm on Sunday 19th June.
Contact
trish@studenthealthassociation.co.uk