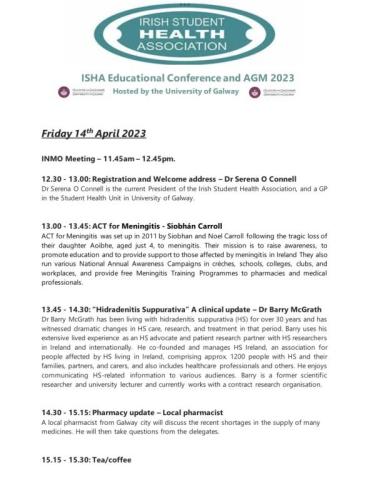 The Irish Student Health Association (ISHA) are delighted to invite you to join us in Galway for our annual conference and AGM on Friday 14th and Saturday 15th April 2023, our first in person conference in 3 years! 
This year the ISHA conference, hosted by the University of Galway, will take place in the beautiful Galway Bay Hotel, located on the edge of the Atlantic with stunning views and walks. We have an exciting line of of speakers, poster competitions and awards, and a wonderful Gala dinner on the Friday night with guaranteed excellent entertainment!
Programme of Speakers and Events: See attached document
-Full 2 day conference ticket including Gala dinner on Friday night and lunch on Saturday: €120. Registration Friday at 12.30hrs
-Friday only ticket including Gala dinner: €80. 
-Saturday only ticket including lunch: €60. Registration at 08.30hrs.
Booking: https://www.eventbrite.ie/e/irish-student-health-association-conference-and-agm-tickets-541177806387
The hotel has block-booked a number of rooms at a reduced rate for attendees, so please mention you are attending the ISHA conference when you phone to book. But hurry, as there are only a set number of rooms available at this price: e132 for a single, e142 for twin.
Pauline Carberry Memorial Award - Poster Presentation Competition
For those who wish to enter this year's Poster Presentation Competition, The ISHA Executive and Conference Organising Committee are now calling for a short description of your poster entry. This competition is open to any research or study that relates to any element of Student Health or Wellbeing. You can email a short description  to irishstudenthealth@gmail.com, with a closing date for receipt of applications of 1st of April 2023.
The Dr David Thomas Award
We are proud to announce our annual Dr David Thomas award competition to honour any colleagues whom you feel have made an 'outstanding contribution to 3rd level student health'. Submissions should be sent to irishstudenthealth@gmail.com on a Microsoft Word document, not exceeding a single A4 page or max. 500 words; clearly stating the Name of the Nominee and the 3rd Level Institution to which they are attached, the Name(s) of the Proposer(s); and a description of the nominee's role and their impact on and contribution to their 3rd Level Student Health Service. Deadline for receipt of nominations is 1st of April 2023.
CPD Points have been applied for.
Looking forward to seeing you in Galway at the ISHA Conference 2023.