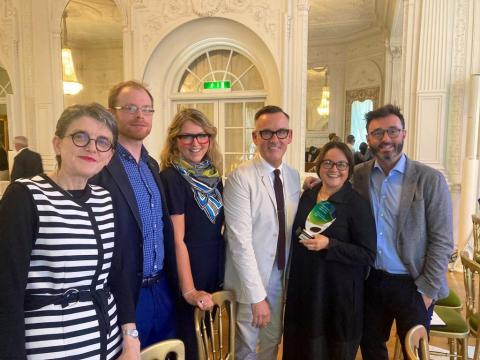 Congratulations to Nurse Laura Tully and the team at TUS Midlands Student Health Centre, and CHO8 Midlands for winning the Sláintecare 'right care, right place, right time' category award at the HSE Excellence 2022 awards, for their integrated student sexual health, contraception and health promotion service.
This was the first year that a Sláintecare category was included in the Health Service Excellence Awards, and the Minister for Health Stephen Donnelly congratulated the Sláintecare 'right care, right place, right time' winning team, and all involved in the annual Health Service Excellence awards.
Minister Donnelly said:
"This is a pioneering nurse-led service that benefits students by enabling equitable access, early treatment and improved follow up, all within their campus community, reflecting the values of Sláintecare - providing the right care at the right time in the right place.
"This is another important step as we improve access to healthcare services for people right across sociecy and follows yesterday's announcement of free contraception, for women aged 17–25 from GPs, primary care centres and pharmacists who sign up to provide services under the scheme.
Read the Department of Health full press release here: https://www.gov.ie/en/press-release/31908-minister-for-health-congratulates-slaintecare-category-winner-and-all-involved-in-the-annual-health-service-excellence-awards/
Right Care, Right Place, Right Time: Sláintecare Integration : https://youtu.be/Frb8KammFTU
Well done TUS Midlands Student Health Centre on winning this prestigious award, and many congratulations from all your colleagues at the Irish Student Health Association.